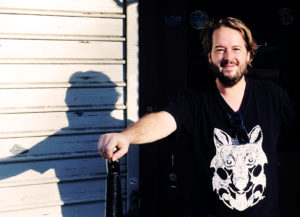 Sebastian Cruz is a versatile Colombian singer-songwriter, guitarist, and composer with a distinctive sound marked by creativity and soulfulness across different styles. In his original projects, he combines his passion and knowledge of  Afro-Colombian music with eclectic influences including creative improvisation and rock energy. Cruz leads the Sebastian Cruz Band, The Cheap Landscape Trio and performs solo using songwriting, loops and prepared guitars. He has released two albums with his Colombian infused songwriting project 'Coba,' featuring some of the most interesting singers in the Latin American scene in NY. He has composed, arranged and directed for Lucía Pulido and La Cumbiamba eNeYé, two influential projects at the forefront of a new wave of Colombian music. He also leads "The Tiny Giants" which performs his original songs for children.
As a guitarist, Cruz appears on numerous CDs and has toured all around the US, Europe, South America, and Asia.
His compositions for film, theatre, and dance have awarded him prestigious recognitions including the Van Leer fellowship from meet the composer, and an ASCAP for the composition of a song for theatre.
A devoted educator, Cruz teaches for the Brooklyn Guitar School, is a Teaching Artist for LeAp, Community-Word Project and Young Audiences New York. Every other Spring semester Cruz leads Columbia University's Latin Jazz ensemble using his expertise on Colombian music. During the Spring of 2012 Cruz served as faculty at Swarnabhoomi Academy of Music in South India where he led ensembles, taught guitar, Composition and arranging, and Colombian music.